Recently, I hosted a Twitter Space where community members could ask questions and have candid discussions about life's challenges. One question, in particular, stood out to me. It came from a man who asked with great sincerity:

While his English was imperfect, the sentiment behind his words resonated deeply. It's a feeling I'm sure many can relate to – when you're suffering through problem after problem, patience starts to wear dangerously thin. Desperation sets in. You feel abandoned, hopeless, and ready to give up the fight.
I've been there myself during some of my hardest times. Hitting rock bottom where no ray of hope seems within reach. And I know from experience that it's a terrifying place to be, mentally and emotionally. Your well of strength feels dried up. Each day is a battle.
That's why I feel compelled to offer guidance on how to cultivate patience and resilience when you feel like you have none left. How to take things moment by moment when the future looks bleak. How to give yourself compassion when it feels like no one else will?
So this article is for anyone out there who feels like they've reached the end of their rope. Who sees nothing but darkness ahead. Who believes the pain will never ease up. I'm here to tell you that you have more power than you realize. There is a way forward, though it may not be quick or easy. With commitment to finding inner calm and perspective, better days will come.
Here are some questions to ask yourself when suffering threatens to dismantle your patience:
9 Questions to Ask Yourself
Will anger and frustration improve my situation?
It's only natural to feel upset when times are hard. But staying calm and proactive is more likely to lead to solutions. Remind yourself that clarity comes from a peaceful mind.
How can I reframe this challenge as an opportunity?
The most difficult times often lead to personal growth. Reflect on what this experience is trying to teach you. Be open to emerging stronger than before.
Who are the supportive people I can lean on?
You don't need to walk this path alone. Connect with understanding friends, family members, mentors, or professionals. There is always someone willing to listen and help carry the burden.
What are small ways I can practice self-care right now?
Focus your energy on small actions that nourish your mind, body and spirit. Every little bit of self-compassion counts.
How will this seem a month, a year, or 5 years from now?
This too shall pass. Pain is usually temporary. Have faith that better times are ahead, even if you can't see it now. You have made it through before.
What inner strength have I shown in difficult times past?
You are more resilient than you give yourself credit for. Draw power from remembering the obstacles you have already overcome.
Would I judge someone else going through this struggle?
Treat yourself with the same kindness and patience you would extend to others. You are doing the best you can with the tools you have.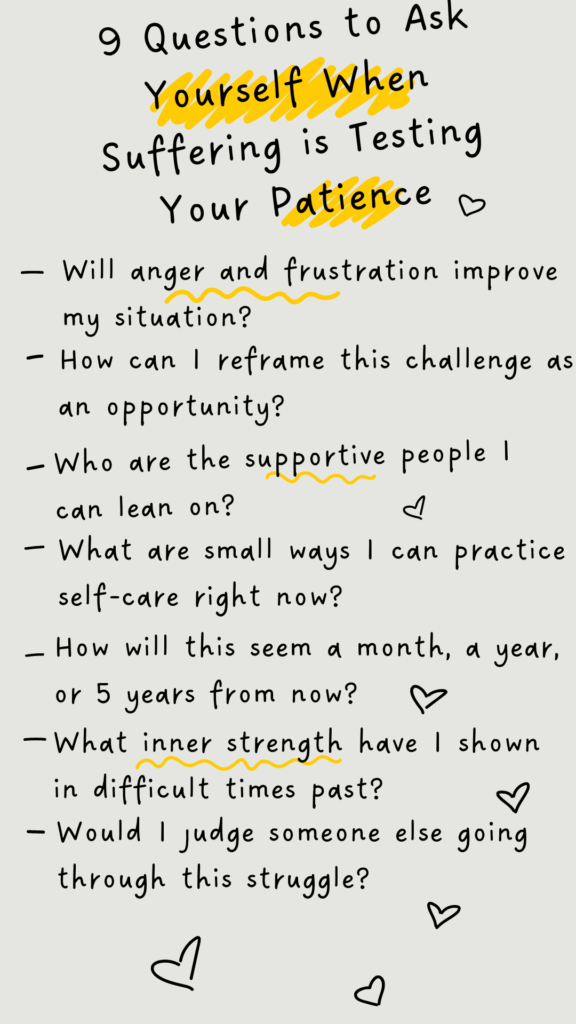 Conclusion:
Suffering can strain our patience to the breaking point. But ultimately, we have a choice in how we respond to life's challenges – whether with anger or acceptance, fear or faith. When hardship arrives, meet it first with compassion towards yourself. Then move forward, moment by moment, with the comfort of knowing that this too shall pass. You are stronger than you know.
I hope these perspectives provide a bit of light to anyone feeling lost in the darkness. Keep fighting through, and never lose hope that better days lie ahead.