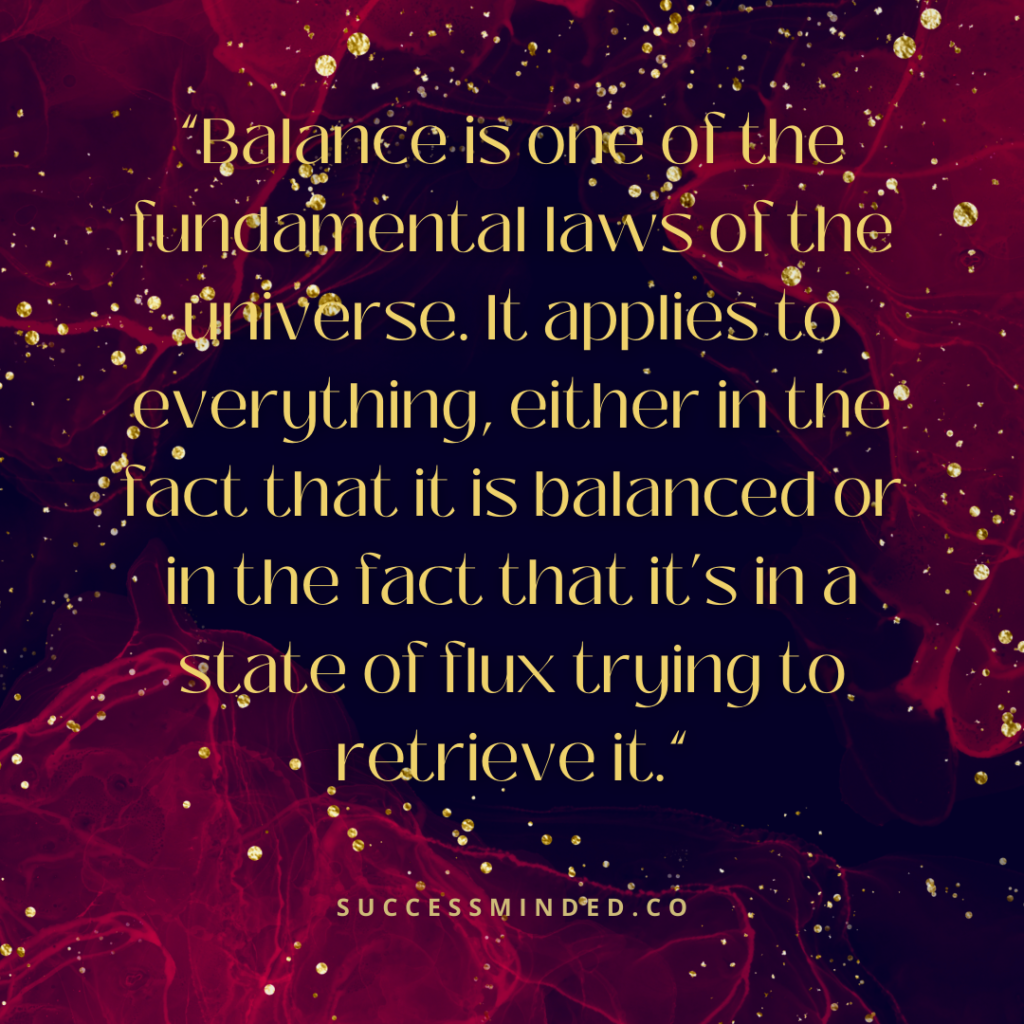 "Balance is one of the fundamental laws of the universe. It applies to everything, either in the fact that it is balanced or in the fact that it's in a state of flux trying to retrieve it."
Balance is a concept that touches every aspect of our lives. From our relationships to our careers, health, and personal goals, balancing our priorities is key to leading a fulfilling and satisfying life.
Imagine the tightrope walker, carefully making their way across a narrow wire, maintaining their equilibrium with each step. This visual is a powerful representation of what balance in life looks like. It's about finding the right balance between work and play, our personal and professional lives, and taking care of both our physical and mental well-being.
Striving for balance is crucial as it helps us to feel in control, reduces stress, and increases our overall happiness. By creating a harmonious equilibrium, we are better equipped to tackle the challenges life throws our way and achieve our goals.
Whether you are just starting out on your journey to balance or are looking to refine your approach, embracing the concepts discussed in this article is a surefire way to live life to the fullest.
What do "Balance" and a "Balanced Life" mean?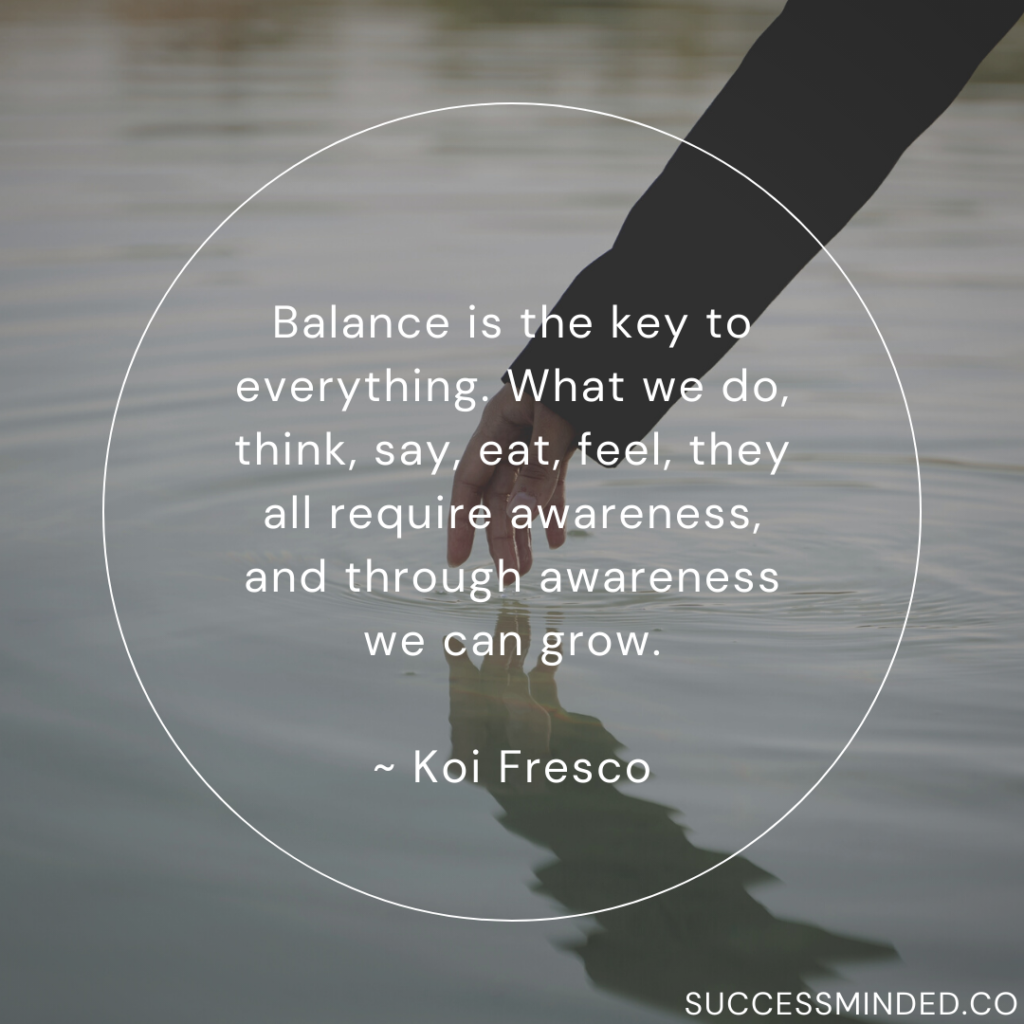 Balance is the key to everything. What we do, think, say, eat, feel, they all require awareness, and through awareness we can grow.

Koi Fresco
Before we move any further, let's first define what we will discuss in this article.
Balance is a term that's thrown around quite a bit, but what does it actually mean? Well, in its simplest form, balance refers to a state of equal distribution where all aspects of life are given the proper attention and importance.
But what does that look like in practice?
For some, a balanced life might mean finding a healthy work-life balance or ensuring they have time for their job, family, friends, and personal interests. For others, it might mean prioritizing their physical and mental health, ensuring they're taking care of themselves, and avoiding burnout. And for others still, it might mean striking a balance between their personal and spiritual growth, working on personal development while also making time for community and connection.
The thing is, everyone's definition of a balanced life is different, and that's perfectly okay! The important part is that you find what works for you and your unique circumstances. You might have to experiment and try a few different approaches before finding the right balance, but trust me; it's well worth it.
So, what does a balanced life look like?
Well, it looks like you, feeling fulfilled and content in all areas of your life. It means you're not neglecting any part of yourself, whether that's your work, relationships, physical health, or personal growth. And it means you're able to approach life with a sense of calm, knowing that you've got everything under control.
Why Balance is the Key to Everything in Life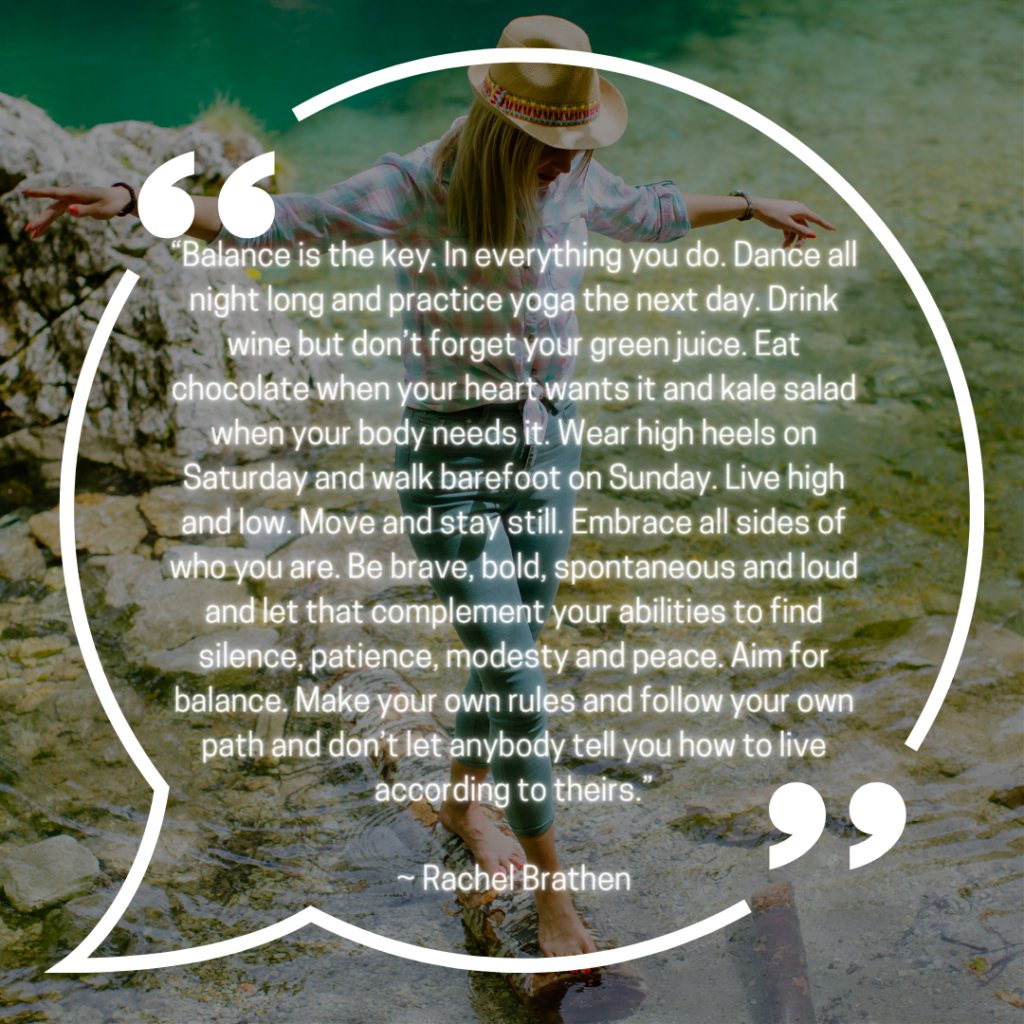 "Balance is the key. In everything you do. Dance all night long and practice yoga the next day. Drink wine but don't forget your green juice. Eat chocolate when your heart wants it and kale salad when your body needs it. Wear high heels on Saturday and walk barefoot on Sunday. Live high and low. Move and stay still. Embrace all sides of who you are. Be brave, bold, spontaneous and loud and let that complement your abilities to find silence, patience, modesty and peace. Aim for balance. Make your own rules and follow your own path and don't let anybody tell you how to live according to theirs."

Rachel Brathen
When it comes to living a life filled with happiness, good health, and success, balance is the magic elixir that holds the key. Striving for balance across all areas of our lives sets the stage for a harmonious existence that is both fulfilling and contented. Let's delve into why balance is the answer to everything in life.
Mind and Body in Tandem: A balanced life lays the foundation for optimal mental and physical health. By carving out time for self-care, pursuing passions and interests, and nurturing relationships, we promote a sense of well-being that is felt both in our minds and in our bodies.
A Joyful and Productive Life: Finding a balance between work and play is crucial for a life filled with happiness and productivity. A sense of joy and fulfillment drives motivation, leading to better outcomes in both our professional and personal lives. And when we avoid the burnout that often comes from overworking, we maintain our motivation and job satisfaction.
Stress and Anxiety Banishment: By striking a balance between the demands of work and the need for rest, we effectively manage stress and anxiety levels. Overworking leads to stress, while neglecting our leisure time can lead to anxiety. But when we carve out time to recharge and refresh, we ease both stress and anxiety, leading to a life that is calm and serene.
Relationships that Thrive: A balanced life creates the space for strong and meaningful relationships to flourish. When we make time for friends, family, and loved ones, we form bonds that bring happiness and fulfillment into our lives. And when we are well-rounded, we have more to give to others, making us better friends, family members, and partners.
What an unbalanced life looks like
An unbalanced life is a recipe for disaster! It can leave you feeling exhausted, stressed, and unhappy.
An unbalanced life often involves working long hours, neglecting personal relationships, and disregarding your own physical and mental health.
Take, for instance, someone who prioritizes work above everything else. They might be putting in 60-80 hour work weeks and neglecting their health by skipping meals and not getting enough sleep. They may also be neglecting their personal relationships, leading to strained or even broken connections with family and friends. This kind of lifestyle can lead to burnout, both physically and mentally.
On the flip side, there are individuals who focus too much on leisure and neglect their work responsibilities. They might constantly be traveling, partying, or engaging in other activities that leave them little time for work or personal growth. This kind of lifestyle can lead to financial difficulties and a lack of purpose or direction in life.
See how they are heavily inclined to one activity or aspect of life in both these cases, yet they ignore some other aspect entirely? This is what an unbalanced life looks like.
An unbalanced life is characterized by neglecting essential aspects of life, such as work, relationships, and personal health. This can result in decreased happiness, poor physical and mental health, and strained relationships.
It's essential to strive for balance in all aspects of life to lead a fulfilling and happy life.
What are the different aspects of life that need to be balanced?
Balancing various aspects of life is like juggling multiple balls at once – it requires focus, coordination, and a bit of grace. But when you finally find that balance, life becomes a beautiful harmony, and you feel fulfilled in every aspect. So, what are the different aspects of life that need to be balanced? Let's take a look!
Work: Work is a crucial aspect of our lives, but it shouldn't consume us entirely. Striving for a healthy work-life balance can lead to increased job satisfaction, reduced stress, and improved overall well-being.
Family: Family is a source of love, support, and comfort. Making time for family, whether it's for dinner, a movie night, or a long weekend trip, helps to strengthen relationships and create memories that will last a lifetime.
Personal Interests: Personal interests, whether it's reading, painting, or hiking, are essential for our mental and emotional well-being. Pursuing hobbies and interests outside of work and family can bring joy and fulfillment to our lives.
Relationships: Relationships, whether romantic or otherwise, play a significant role in our well-being. Building and maintaining healthy relationships require effort, time, and open communication.
Health and Wellness: Last but not least, our physical and mental health should always be a priority. Taking care of ourselves, whether it's through regular exercise, a healthy diet, or self-care practices, helps to maintain a healthy balance and improve overall well-being.
By prioritizing each aspect and making time for what matters most, we can create a harmonious balance that brings happiness and satisfaction to every aspect of our lives.
How to create balance in life
Balancing life's many facets can feel like an insurmountable challenge, but with a little effort and determination, you can absolutely achieve that harmonious equilibrium! Here's how:
Get a grip on time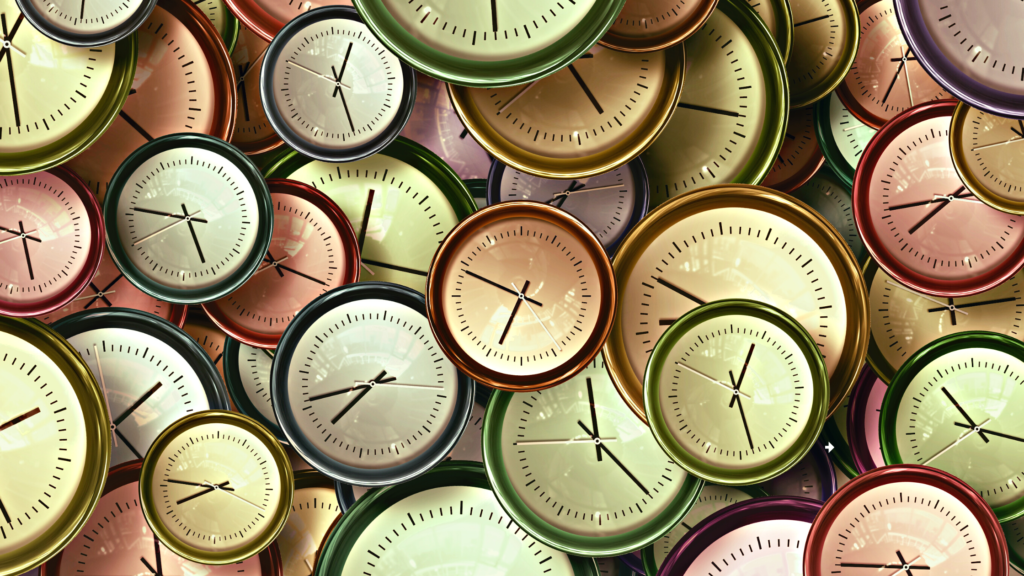 This is a cornerstone of a balanced life. Start by being crystal clear about your priorities and allotting your time accordingly. Utilize a planner, a to-do list, or even a digital calendar to help you keep track of your schedule. And don't forget to include "me-time" in your routine!
Make self-care a priority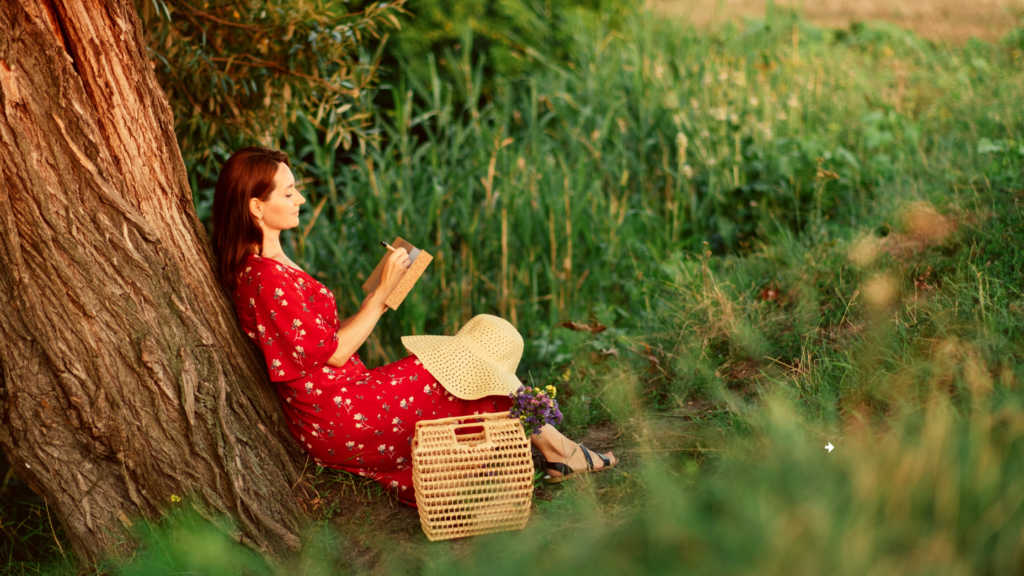 Taking care of your physical and mental well-being is essential to achieving balance. This can encompass things like exercise, nutritious eating, and enough shut-eye. Set aside a portion of each day to indulge in activities that bring you happiness and offer respite.
Boundary-setting is key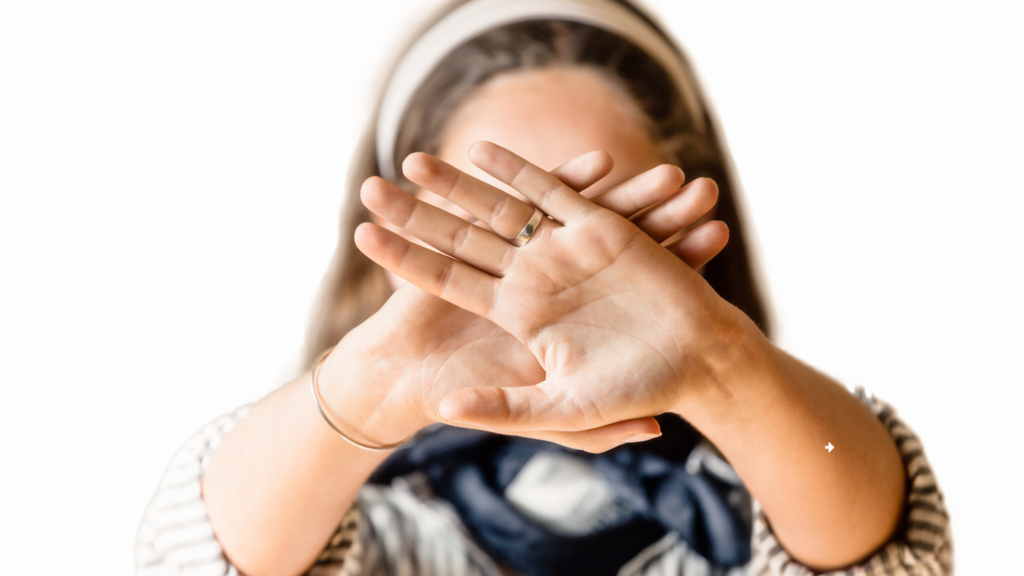 In both your personal and professional life, it's important to establish limits and boundaries to maintain balance. This can mean politely declining additional work or commitments that would upset your schedule or designating specific time for loved ones or leisure activities.
Work-life balance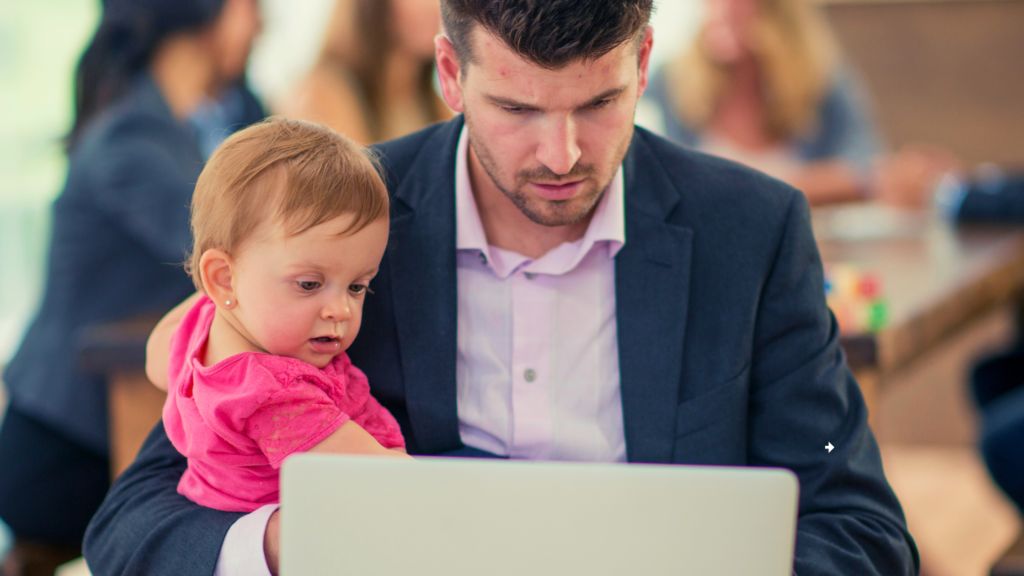 Maintaining a healthy balance between work and personal life can be challenging, but it's crucial for overall well-being. Set achievable goals and take mini-breaks throughout the day to re-energize. Aim to leave work at the office and avoid taking it home with you.
Nurture relationships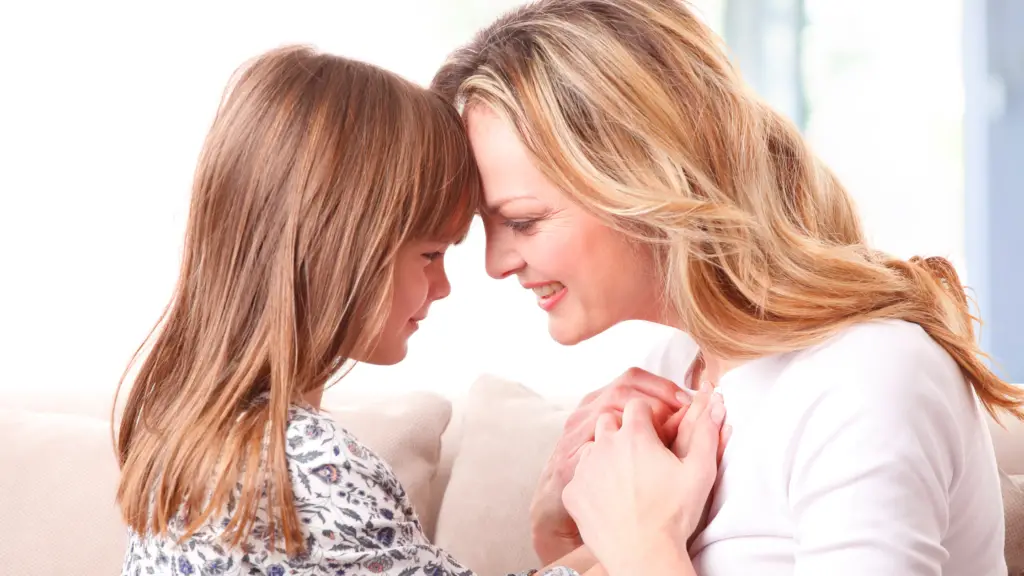 Building strong connections with family and friends is a vital aspect of creating balance in life. Spending quality time with loved ones and making new connections can reduce stress and bring joy to your life.
Ditch perfectionism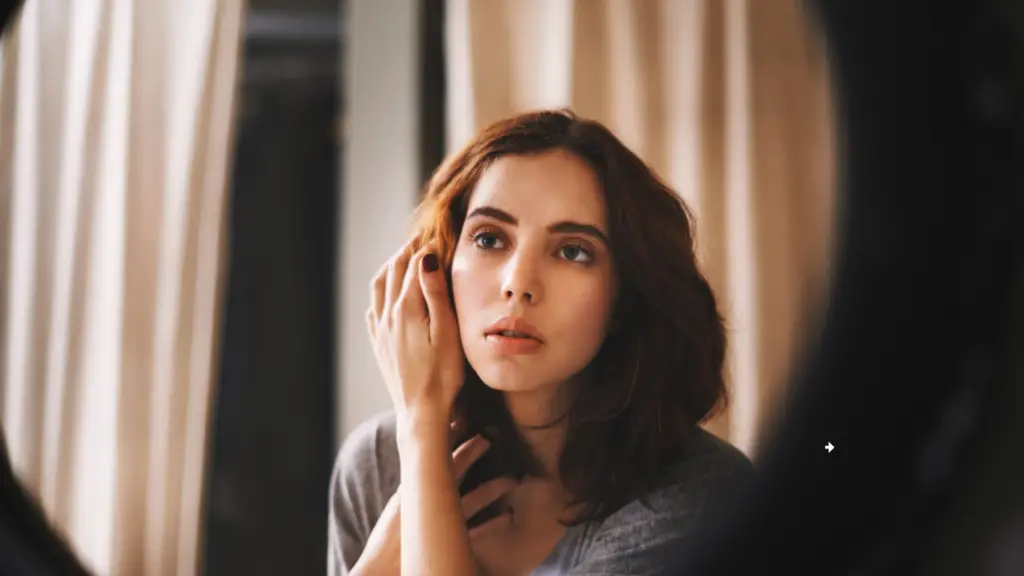 The pursuit of perfection can often hinder progress toward balance. Instead, aim to do your best and embrace the beauty in imperfections. Remember, finding balance is a journey, not a destination. So, be kind to yourself, and don't hesitate to make mistakes along the way.
These tips are just a few of the many strategies you can employ to create balance in your life. The key is to find what works best for you and to be patient and persistent in your quest for balance. So, take the leap, give it a go, and start living the balanced life you deserve!
Conclusion
In conclusion, balance is the key to a fulfilling and satisfying life. It refers to a state of equal distribution of attention and importance to all aspects of life, including work, personal and spiritual growth, physical and mental health, and relationships.
A balanced life leads to optimal mental and physical health, a sense of joy and productivity, reduced stress and anxiety, and strong relationships. On the other hand, an unbalanced life, characterized by neglecting essential aspects of life, can result in exhaustion, stress, unhappiness, burnout, financial difficulties, and a lack of purpose or direction.
Everyone's definition of a balanced life is unique, and it is important to find what works best for you and your circumstances.
[Image Source(s): Canva]