When the road ahead seems long and your struggles immense, it can be tempting to abandon hopes and give up on your dreams. But decades before the phrase "when the going gets tough, the tough get going" became popular, inspirational poet Edgar Guest shared a simple yet profound mantra for overcoming life's inevitable difficulties – just keep going.
Guest's uplifting poem "Keep Going" acknowledges the twists and turns we all face, urging grit and tenacity even when progress seems distant. By reflecting on his timeless words, we can rediscover the will to persist through whatever challenges may arise.
"Keep Going" Poem By Edgar A. Guest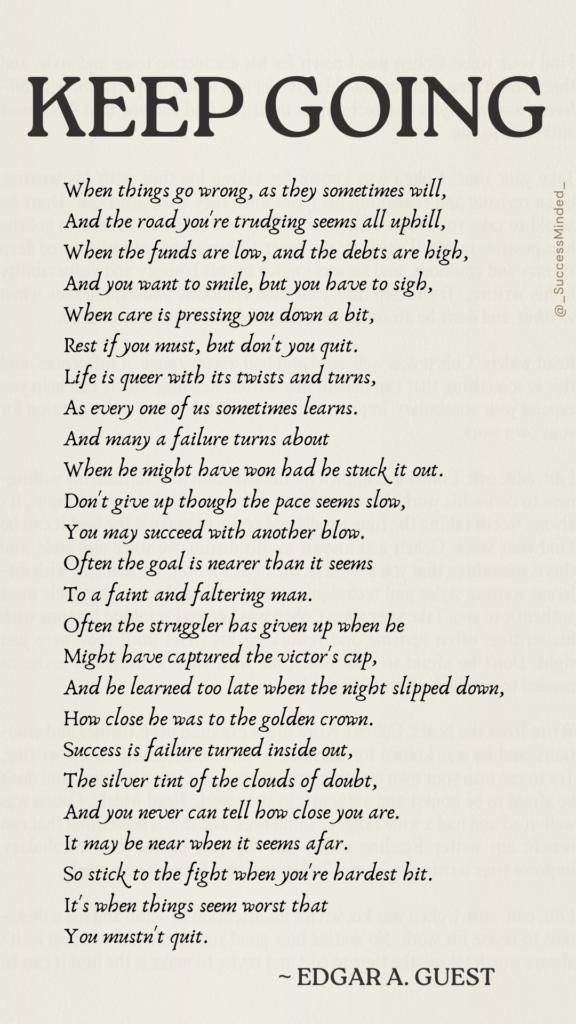 When things go wrong, as they sometimes will,

And the road you're trudging seems all uphill,

When the funds are low, and the debts are high,

And you want to smile, but you have to sigh,

When care is pressing you down a bit,

Rest if you must, but don't you quit.

Life is queer with its twists and turns,

As every one of us sometimes learns.

And many a failure turns about

When he might have won had he stuck it out.

Don't give up though the pace seems slow,

You may succeed with another blow.

Often the goal is nearer than it seems

To a faint and faltering man.

Often the struggler has given up when he

Might have captured the victor's cup,

And he learned too late when the night slipped down,

How close he was to the golden crown.

Success is failure turned inside out,

The silver tint of the clouds of doubt,

And you never can tell how close you are.

It may be near when it seems afar.

So stick to the fight when you're hardest hit.

It's when things seem worst that

You mustn't quit.

Edgar A. Guest, Detroit Free Press (March 4,1921)
The Meaning and Message of "Keep Going"
The essence of Guest's inspirational poem is a simple yet profound message to persist in the face of life's inevitable difficulties and sorrows. He acknowledges the pain of financial struggle, bone-deep weariness, and self-doubt that can tempt us to abandon hopes and dreams.
Guest sees these as unavoidable "twists and turns" on the road of life.
However, he urges us to dig deep and keep putting one foot in front of the other, even when the path ahead seems steep, or progress feels slow. Guest insists breakthrough could be just around the next bend if only we persevere.
He argues that success often comes suddenly, right when we are on the brink of surrender. By continuing to move forward with "another blow" of effort, we may finally achieve our goals.
The poem serves as a rallying cry to keep "sticking to the fight" even when the finish line is nowhere in sight. Guest inspires ongoing labor and refusal to quit, painting vivid metaphors of prizefighters continuing to swing through exhausted or adventurers trudging ahead though lost. His words ignite grit and tenacity within us even when achievement seems distant.
Edgar Guest – The People's Poet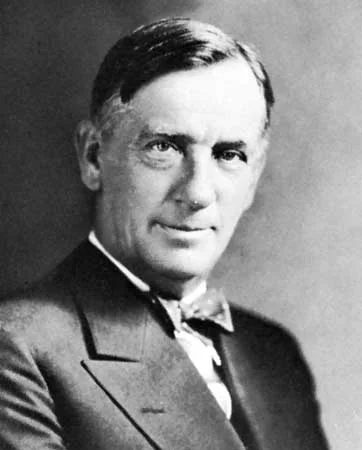 Edgar Guest had humble beginnings but became known as "the poet of the people" through his simple yet impactful verses focused on everyday struggles. Born in England in 1881, his family moved to Detroit when he was 10 years old. Guest had to leave school at 17 after his father died in order to work full-time to support his family.
He slowly worked his way up at the Detroit Free Press over decades, starting as a copyboy at age 14. Guest ultimately became a nationally syndicated columnist and published more than 20 poetry collections. But he never lost touch with the ordinary working person.
Guest wrote accessible, often sentimental poems that aimed to encourage and uplift readers facing life's inevitable difficulties. Works like "Keep Going" urged perseverance through hardship with optimism and hope rather than complex metaphors. He considered his verses "simple rhymes" about common human experiences faced by regular people across the country.
Lessons from the Poem
Several impactful lessons emerge from Guest's inspirational lines:
When the path seems long and progress distant, dig deep and keep going.
Rest if absolutely needed, but don't permanently surrender your effort toward your dreams.
Even those closest to success have faltered. Self-doubt is normal, but keep it moving.
Breakthrough often comes suddenly after a long period of struggle and stagnation.
Grit and tenacity are key even when achievement seems impossibly far off.
Failure can prepare you for greater success if you reflect on the lessons learned.
Approach setbacks as opportunities to tweak strategies, build resilience, and grow.
With consistent effort, you create the conditions for an eventual breakthrough.
Conclusion:
Guest's timeless words remind us that with grit and tenacity, we can capture the victor's cup if only we stick to the fight. Rather than abandoning hope when the path seems long, dig deep and keep going. Consistent effort creates the conditions for sudden success. When hardship arises, heed Guest's call to persevere.