Picture this: You're at a crossroads, facing a choice that might seem simple but is actually profound. Do you stay true to your high standards, or do you bend them for someone else's sake?
It's a dilemma many face, and often, the temptation to lower our standards is wrapped in the guise of compromise or the fear of missing out.
But here's the thing: your standards are a reflection of your self-worth and aspirations. They are the guardians of your personal growth and happiness. By maintaining them, you not only respect yourself but also attract the kind of people and opportunities that align with your true self.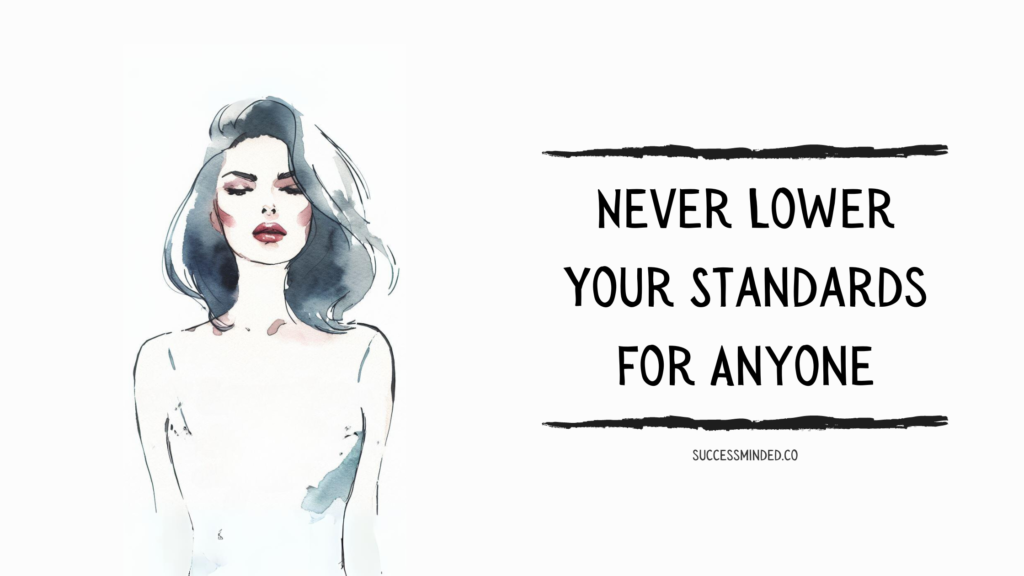 Understanding Your Standards
What are Personal Standards?
Think of your personal standards as a set of guidelines that dictate how you live, work, and interact with others. They are your own set of rules and expectations that you have for yourself. They can be about anything – your work ethic, how you treat others, the respect you demand, or the quality of work you produce. They are the backbone of your identity.
The Role of Standards in Self-Identity
Your standards are not just rules; they are a reflection of your innermost values and beliefs. They shape your decisions, influence your behavior, and, ultimately, carve out your identity. When you're clear about what you stand for, you navigate life with more confidence and clarity.
The Pitfalls of Lowering Your Standards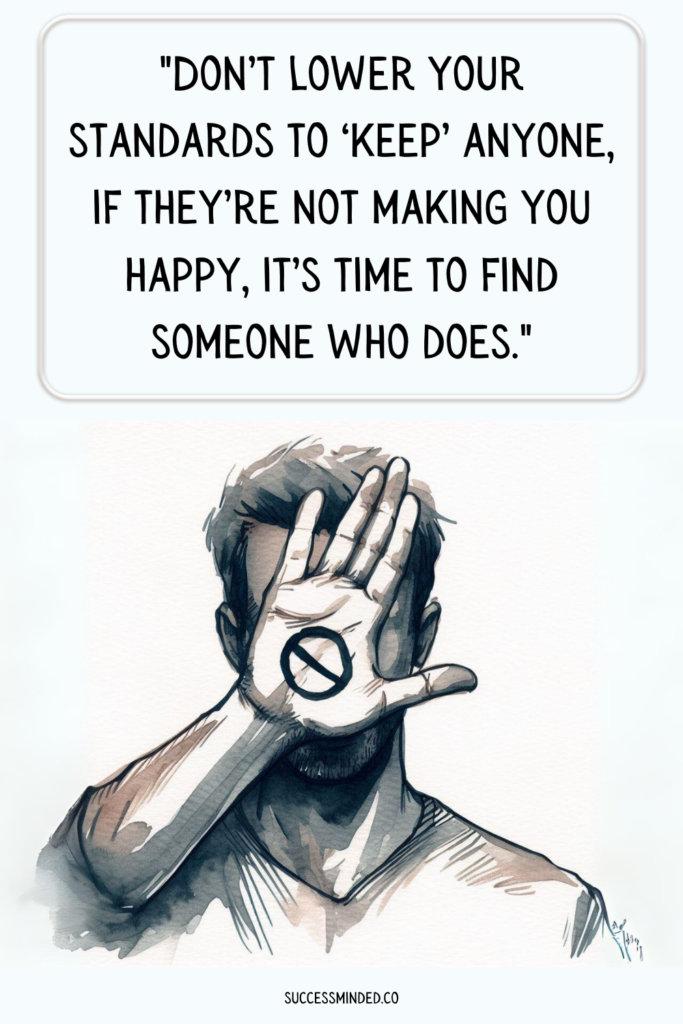 "Don't lower your standards to 'keep' anyone, if they're not making you happy, it's time to find someone who does."
Short-Term vs. Long-Term Impact
Lowering your standards might seem like an easy way out in the short term. It might get you immediate social acceptance or prevent conflict. However, in the long run, it chips away at your self-respect and leads to regret. Living a life that's inconsistent with your core values can lead to a lack of fulfillment and even resentment.
Let's Take an Example
Let's talk about Alex, a graphic designer with a passion for quality. Pressured to meet unrealistic deadlines, Alex started cutting corners in his work. Initially, it brought him relief and more clients, but soon, the quality of his portfolio suffered, and he lost respect in his professional circle. This story illustrates how compromising standards for short-term gain can have long-lasting negative effects.
The Power of High Standards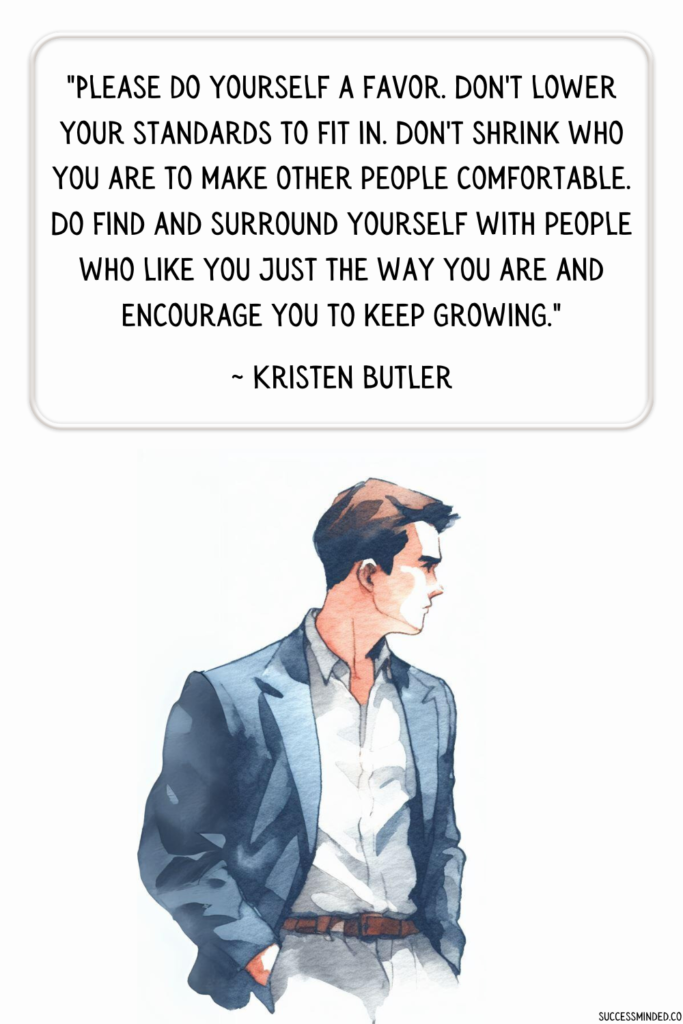 "Please do yourself a favor. Don't lower your standards to fit in. Don't shrink who you are to make other people comfortable. Do find and surround yourself with people who like you just the way you are and encourage you to keep growing."

Kristen Butler
Self-Respect and Confidence
When you set high standards and stick to them, you're essentially telling yourself and the world that you value your worth. This act of self-respect breeds confidence. You start to trust your judgment and abilities more, and this confidence radiates, influencing all aspects of your life.
Attracting the Right People
By holding yourself to high standards, you naturally attract people who respect those standards. Think about it – when you value quality, integrity, and respect, you draw in people who appreciate and live by these values. This leads to healthier, more fulfilling relationships, both personally and professionally.
Let's Take an Example
Consider Maya, a young entrepreneur who insisted on ethical business practices despite the industry norm being quite the opposite. It wasn't the easiest path, but her commitment to her standards eventually attracted like-minded partners and clients, leading to a successful, respected business built on integrity.
Balancing High Standards and Realism
While it's crucial to have high standards, it's equally important to ensure they are realistic. Unrealistic standards can set you up for failure and disappointment. It's about striking the right balance – setting the bar high enough to challenge yourself but not so high that it's unattainable.
That's where Adaptability comes in. Life is unpredictable, and sometimes, adapting is necessary. However, being adaptable and flexible with your standards doesn't mean lowering them; it means being smart about when to stand firm and when to adjust. It's about knowing your non-negotiables and being open to growth and change in other areas.
How to Uphold Your Standards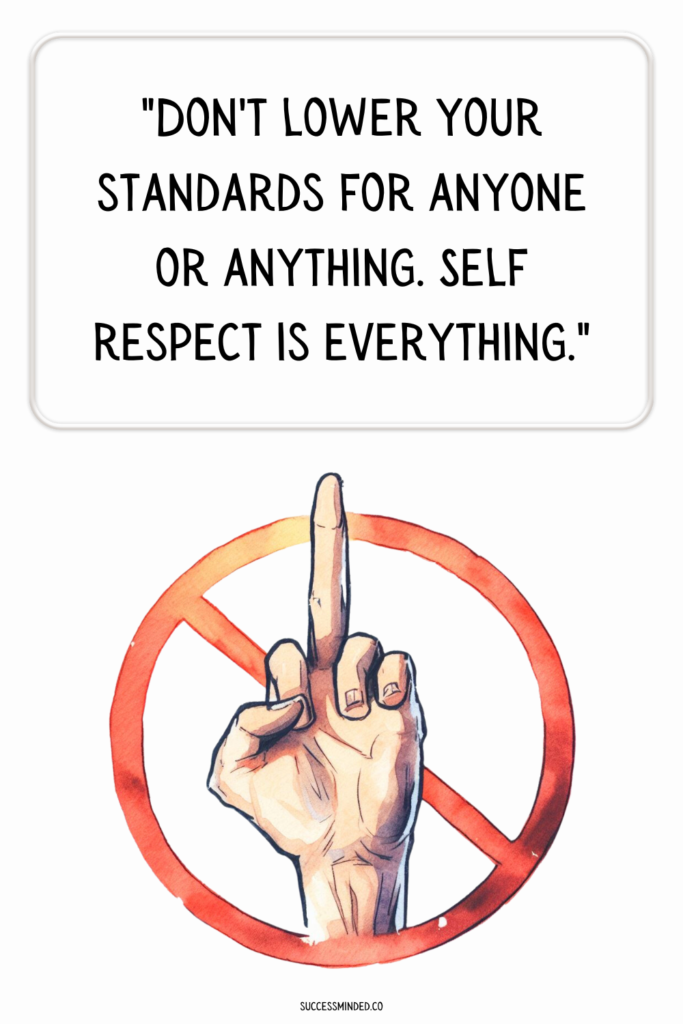 "Don't lower your standards for anyone or anything. Self respect is everything."
Practical Tips for Setting and Sticking to Your Standards:
Identify Your Core Values: What's most important to you? Honesty, hard work, kindness? Your standards should align with these values.
Set Clear Goals: Define what success looks like to you in different areas of your life.
Be Consistent: Apply your standards consistently in all aspects of your life.
Reflect Regularly: Take time to reflect on your standards. Are they still serving you well?
Remember: It's inevitable that, at times, external pressures will challenge your standards. Stand firm. Remember, when you give in to these pressures, you're not just compromising your standards; you're compromising your future.
Conclusion
So, why should you never lower your standards for anyone? Because your standards are the framework of your identity. They guide your journey toward personal growth, fulfillment, and success. They're not just a set of rules but a reflection of your deepest values and aspirations.
Remember the examples I shared earlier. Let these stories remind you that while the path of high standards isn't always easy, it's always worth it. Reflect on your own standards, commit to them, and watch as they transform your life into one that's not just successful, but also meaningful and true to your essence.